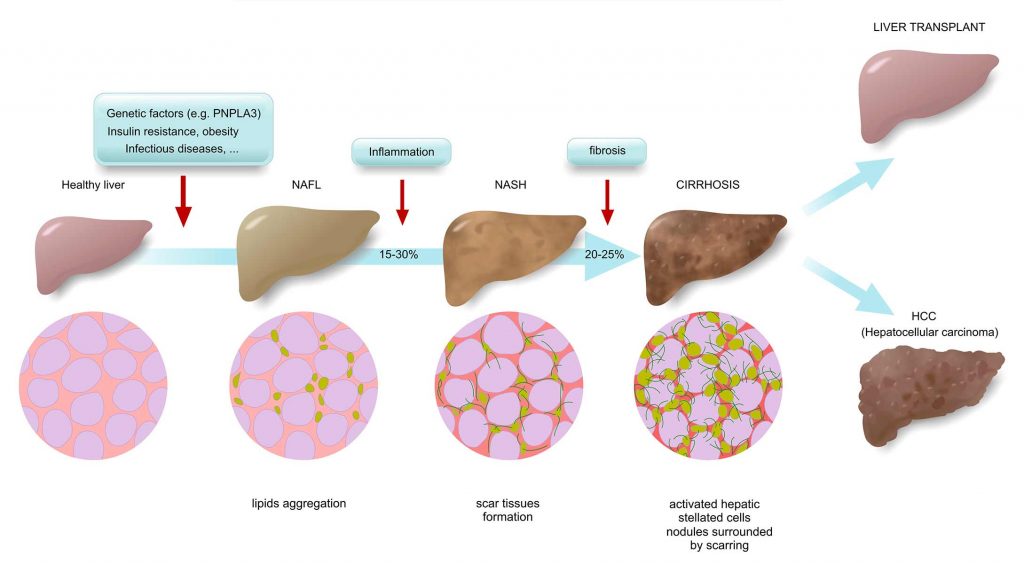 Nonalcoholic fatty liver disease (NAFLD) is the buildup of fat in the liver. It begins with steatosis, or fatty liver, when the more than 5% to 10% of the liver's weight is made up of fat. The most severe form of NAFLD is non-alcoholic steatohepatitis (NASH). Steatohepatitis is swelling of the liver. The swelling can cause cirrhosis, which is scarring. It can also lead to liver cancer or to liver failure. Up to 25% of people with NASH may have cirrhosis. It is the leading cause of cirrhosis in adults in the U.S.
Causes and Risk Factors
Risk factors associated with NAFLD include:
Obesity
Diabetes
High cholesterol
High triglycerides
Poor eating habits
Rapid weight loss
NAFLD has also been associated with certain medications, medical treatments, medical conditions including:
Amiodarone
Tamoxifen
Methotrexate
Corticosteroids
HAART
Total parenteral nutrition (TPN)
Certain weight loss surgeries
Lipid metabolism disorders
Glycogen storage disease
Hepatitis C
Weber-Christian syndrome
Celiac disease
Starvation
Environmental toxicity
A recent study found a link between glyphosate exposure and NASH. Glyphosate is the main ingredient in the popular weed killer Roundup.
NAFLD is more common in women than men and is most often found in people between 40 and 60 years old.
NAFLD Symptoms
NAFLD often produces no noticeable symptoms until it progresses to the more severe NASH. Symptoms can include:
Jaundice – yellowing of the skin and/or whites of the eyes
Weakness
Fatigue
Abdominal pain
Swelling of the abdomen
Nausea
Loss of appetite
Weight loss
Swelling of the legs
Enlarged blood vessels just beneath the surface of the skin
Mental confusion